Training-Games.com
Issue 3
Learning CAN be fun. Training SHOULD be fun. Training Games ARE fun!
TGI Newsletter and Free Product Offer
Making Training Quiz Games More Effective
Attention is a cognitive process. It is our attempt to focus on one thing while filtering out as much of the many other sensory stimuli that bombard us in each and every moment.

The most famous definition of attention comes from one of the first major psychologists, William James: "It is the taking possession by the mind in clear and vivid form, of one out of what seem several simultaneously possible objects or trains of thought...It implies withdrawal from some things in order to deal effectively with others." (Principles of Psychology, 1890).

Focusing our attention is a difficult thing to do for any prolonged period of time, however absolutely essential to any attempt to learn. Most teachers and trainers know this first-hand. In fact, it is biologically impossible to learn information that our brains have not focused or paid attention to. Attention is therefore our gateway to learning.

Our brains actually operate in cycles of "High Attention" and "Downtime". The downtime is actually just as important to learning as attention. During this downtime, the brain engages in thinking, questioning, mulling over concepts in order to assimilate or accommodate information into new learning and understanding. In fact, if downtime is not provided (and new information continues to flow) the brain will begin to filter out, or relinquish attention for the new information, just so that it can begin processing the earlier or first-in information. This may help explain why our retention is so good for the first 10 minutes of a lecture, yet falls off to only 20 percent for the remainder of the presentation. A lengthy, data rich presentation allows the brain little time to think, to process and ultimately, to learn. It's like attempting to bake a cake by pouring the milk, flour, sugar and eggs into a bowl, but neglecting to stir the ingredients, or to place the mixture into the oven to bake. Many teachers and trainers are not aware of this.

Training Quiz Games can be used to capture class attention. They provide an environment that is emotionally charged and highly social, two elements (emotion/collaboration) which have been shown to be conducive for learning. Such games allow teams to compete while being introduced to learning questions. The experience is both interactive and engaging.

But what about the "downtime" needed to process learning as mentioned above? This is indeed important, and can also be introduced into a training game. Let's imagine that a game question asks what the connecting points within our brain's neural network are called. The answer; "synapses". That's great, your team got it right, they're excited, engaged, high fives all around. Now instead of moving on to the next fact based question in the game the trainer instead takes some time-out to utilize this highly focused level of engagement to more thoroughly explore the question. Perhaps she asks the group a follow-up question, or presents other supportive data. Perhaps and collaborative exercise or gives a mini-presentation on the subject. Essentially giving class participants time to further discuss, process and consolidate the learning.

Training Games Inc. has carried this concept one step further by designing games that allow the trainer to easily embed pop-up questions, exercises, graphical slides and even mini-presentation into their Deluxe and Ultima Games. We believe that this idea of pulsing between content and participative interaction is in line with the way we learn. In this regard developing tools that facilitate this type of training can only improve our ability to learn.
Interesting Brain Facts about Young Minds
Babies lose about half of their neurons before they are born. It is believed that neurons that do not receive sufficient stimuli during this period are eliminated. We also understand that during the first month of life synapses can increase from 50 trillion to 1 quadrillion. It would almost appear as if we are given an enormous opportunity early in our lives to develop our brains. Research however continues to seek answers in regard to optimal learning windows. "Regarding critical periods in second-language acquisition, Bialystok and Hakuta suggest that the difference between child and adult learners is more quantitative (or a matter of degree) than qualitative: Overall...the evidence of a critical period for acquiring a second language is, at best, confusing." ( Is There a Critical Period for Learning a Foreign Language? - June 2000, by Lisa Chipongian). Studies also indicate that our ability to learn can increase or decrease by 25% given the level of stimulation in our early environs. Although it is well known that reading aloud to children can stimulate brain development, only 50 percent of parents habitually read to their children.
Products From TGI
Contact

[email protected]

or call 602-750-7223
Amazing Trivia and Famous Quote
Interesting Trivia: According to a recent survey, only 56.6 percent of Americans can say they read a book of any kind last year. What a great resolution, to read at least one more book than I did the year before.

Famous Quote: Proverb - "A single conversation across the table with a wise man is worth a month's study of books."
TGI News
1. Training Game Inc. has it's primary website at www.training-games.com . We just put up another website at www.presentationgame.com . This site is devoted to one of our best selling products called The Presentation Game 3.0. This game has been recently upgraded, and we believe the Presentation Game 3.0 is an excellent and unique tool for trainers and presenters. It turns any PowerPoint Presentation into a Training Game. It allows you to award points as you give your presentation. Everyone will love the game, listen to the presentation and most importantly, learn. Imagine giving a presentation and no one wants it to END!

2. If you have purchased the Presentation Game in the past from TGI just e-mail me (

[email protected]

) and I will send you the upgraded version of the game for FREE!

3. FREE OFFER - Review the Presentation Game on our website at www.training-games.com/presentation-game.html and we will send to you the TGI Big Spin Program for FREE. Get creative, and develop your own fun training games using this application. It has a Big (Quiz Show Like) Spin Wheel to select teams, players, prizes or whatever you like, and (4) other fun random generators to build your participative training games around. A $19.99 value. See more product details at: http://training-games.com/support_tools.html#spin
TGI Quiz Show Deluxe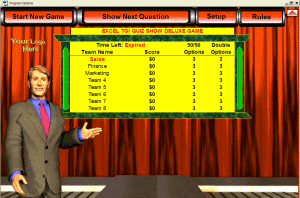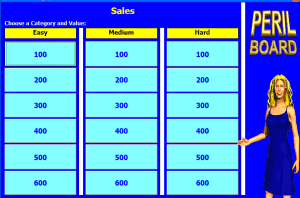 TGI's Best selling product overall in 2006, the Quiz Show Deluxe has everything you'll want to add fun and participation to your training program. Some features include:

- Two games in one. Our traditional Quiz Show or "PERIL" a Jeopardy type game option.
- Graphic Viewer allows you to show a separate image for any questions. Images can contain additional text, charts, graphs or pictures.
- Team play can be set for 2 to 8 teams, and the team names appear as the game is played.
- Teams can have up to 10 players per team. Player names also appear IN THE GAME!
- Individual Play Option - This game can be emailed to trainees as a pre-work exercise or given to class participants as a fun way to review the course materials. What a fantastic learning enhancer!

TGI Quiz Show Deluxe Single User License - $ 74.99

http://training-games.com/quizshowdeluxe.html

Let's Make A Deal!
A great new game based on the popular television show

"Deal or No Deal"

except that participants must answer your training questions to keep the values they choose. Add this great game to your training program! All the excitement, sounds and tough decisions of the real game!

CHOOSE THE OFFER OR THE DEAL!!!!!

Full game features description go to: www.training-games.com/deal_game.html (Single User License $ 99.99)

Downloadfree game NOW!
The Presentation Game 3.0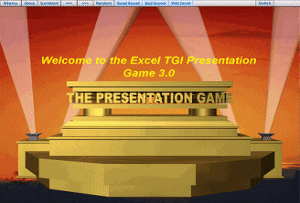 The Presentation Game 3.0 turns your PowerPoint presentation into an interactive Game!

(Single User License $ 74.99)

See all details at : www.training-games.com/presentation-game.html
Visit our Website at www.training-games.com
Download the TGI Catalog
We Need You!
We're looking for two things:

1. Some great learning stories to share in our newsletter (If we use your story we'll send you any one of TGI's new Support Tools free (see above or at www.training-games.com/support_tools.html).

2. Question Sets - TGI sells question sets to use with our games. These include general business topics such as Leadership, Customer Service and Diversity. If you have or can develop a question set that we can sell/distribute, we will give you a single user license to any of our games (qualifications - general topic must be approved by TGI, 75 multiple choice questions per set required, and submissions, both questions and answers, must be completed in MS Word or Excel.)

See current TGI question sets at:
www.training-games.com/questions.html
Note: Question sets are now included with the purchase of XF games
FREE Certificate Maker - We will send you this great application ($retails for $19.99) for just previewing our latest version of the Presentation Game 3.0 - www.training-games.com/presentation-game.html - Contact [email protected] for your free Certificate Maker!
Contact [email protected] for FREE TGI Quote Maker with purchase of any of the above advertised products or for questions, submissions, or concerns!
Training Games Inc.
Gary Trotta, CEO
4545 E Hedgehog Pl
Cave Creek, AZ 85331
602-750-7223


[email protected]


www.Training-Games.com
PS..
The sole intention of this email is to introduce you to our company and our products. If you do not want to receive ANY future emails from TGI, please CLICK HERE to REMOVE your email address. We respect your privacy and believe in keeping the Web a wonderful place for all.
© Copyright 2007. Training Games Inc.