Training-Games.com
Issue 12
Learning CAN be fun. Training SHOULD be fun. Training Games ARE fun!
If you are having problems viewing this newsletter, you may also view it online here.
In this Newsletter...
A Training Game for Your Thoughts!
A very important part of our business is understanding what you, our customer, want in a game. We need your feedback and comments. If you will complete our short online product survey - we will send you a Free PowerPoint Training Game from our new 6-Pack PowerPoint Games collection along with the free PowerPoint Scoreboard program. The free game this month is the Tic Tac Dough game which is a Hollywood Squares-type game.

Click this link to start and submit the survey (only 8 questions) and don't forget to fill in your email address so we know where to send your free game.
TGI 6-Pack PowerPoint Games
There are two ways to use our new 6-Pack PowerPoint games. Option One! Enjoy all the action of virtual gaming using any one of the popular shared desktop or conferencing applications. Option Two! Our six PowerPoint Games are great fun in a classroom setting, and may also be posted on your organization's server, company intranet or any secure page on your website. Games include a FREE PowerPoint scoreboard. For more information, go to http://training-games.com/powerpoint_games.html


Products From TGI
Contact

[email protected]

or call 602-750-7223
Moving from Classroom to Online Training
Like an inexorable juggernaut, online learning continues to grow and pervade the training world. E-learning may be defined as instruction delivered electronically via the Internet, Intranets, or multimedia platforms such as CD-ROM or DVD (Hall, 2003; O'Neill, Singh, & O'Donoghue, 2004). Estimates suggest that the amount of money U.S. companies spent on the IT-based delivery of training grew from $3 billion in 1999 to $11 billion in 2003 (Koprowski, 2000), and $18 billion in 2005 (Moore, 2001), with some organizations projecting that over half of their training and education will be delivered electronically over the next five years (Gold, 2003). There are many good reasons this, latest in training modalities, has claimed such fast success. First and foremost is the bottom-line. When you take into consideration the cost of travel, printed materials, logistical coordination and no shows, classroom training can be pricey, while online training can be a fraction of this price, perhaps only 2 to 3% of the cost.

According to Caterpillar University (Walliker, 2005), "e-learning is less expensive to deliver almost regardless of learner population. For example, in all cases where there is a learner population larger than 100, e-learning has a clear cost advantage. As the population increases, this difference becomes more pronounced. Even with a population as small as 100 and a class as short as one-hour, e-learning was still more than 40 percent less expensive than instructor-led training. When large populations are modeled, the cost advantage of online learning is even greater, with savings as high as 78 percent." (http://itec.sfsu.edu/wp/865wp/S06_865_McLeod_elearning_vs_ILT.pdf)

Online study is available 24/7 and the student can work on the course materials in their own time and at their own pace. Ah' but you say online training can be isolating, and boring. This is not necessarily true. Now students can participate in asynchronous and synchronous course study. Students can correspond via email with one another, share thoughts and ideas, and in the same manner discuss and clarify information with their instructors online. Instructors can facilitate group discussions and online presentations using any one of the computer conferencing software applications available today (i.e. WebEx, GoToMeeting, Budget Conferencing, Ivisit, LiveMeeting, Acrobat Connect Professional and others). My company suggests using some of these conferencing tools to play our games online while interfacing with remote employees and organizational members. We also sell a variety of fun and exciting quiz show type games that can be published online on company servers, intranet or secured web pages http://www.training-games.com/powerpoint_games.html#online . Instructors can spend more time on their learning materials, less on logistics, and improve the overall training offer.

Most of us believe in the virtues of activity based training versus long and very passive learning lectures (Death by PowerPoint). Online instruction can also be engaging. Motivated students create and problem-solve their way through such course instruction resulting in a positive learning experiences with substantially high retention levels.

This all actually sounds too good to be true and in some ways it is. I am cautioning you to taste, but not to drink the Kool-Aid; at least not the whole cup. Classroom training should remain a valuable piece of your training package. First of all, electronic communication is quite often not all it's cracked up to be. Did you ever find yourself emailing someone back and forth on a topic, and each of you not quite understanding what the other is trying to convey (3 e-mails later you give up and pick up the phone?) Email can be a bit inefficient and at times, quite time consuming. Communication becomes more difficult when we lose those non-verbal clues from our voice inflections, and body language which we have all come to heavily rely for clarity and understanding. If collaborative learning and interactivity is as important to learning as we have all been saying over the past several years, online is NOT the best way to interact. I am just saying that a proportionately high amount of learning that can be transferred within a fairly brief conversation.

There are other lateral benefits to classroom training. Classroom training is an excellent forum for organizations in which team building is an important outcome. I worked for 26 years in an organization, and some of my strongest relationships with other company individuals were forged in training classes. These, in turn, help an organization to more effectively communicate and translate into better service for our customers and in general, a better success model for your organization. Learning should be a multi-sensory experience. We donít want to fall into that same old text based experience many famous training designers have urged us to leave behind. Music, sound, kinetic experiences help us to learn how to use brain functionality our educational system has ignored for centuries. Our online learning experience can certainly contain many of these elements, but is more often than not text based.

Interactive exercises, brain storming, live demonstrations, role playing, and let's not forget the advantage of immediate feedback for inquiring minds, are a few important training staples best deployed within a classroom setting. So the real bottom-line is perhaps to offer a blended training solution. Allow these two fine tools (Classroom and Online training) to work in concert to deliver to your organization superior training. We'd all agree that classroom training could be substantially enhanced with pre-work exercises and follow-up review, and what better way to do this but online.

A few final thoughts; many of us remember when we felt voice-mail was going to be a real time saver, and improve on our ability to quickly and efficiently communicate with one another. Now there isn't one of us who would not kill to hear a live voice on the other end of the line! In 1896, Thomas Edison believed that his motion picture invention, the Vitascope, would revolutionize our system of education. Instead it found its place as an important addition to education. We certainly have good cause to celebrate the movement towards online training, but hopefully will not forget the substantial advantages of training offered through our classrooms.
TGI Quiz Show Game XF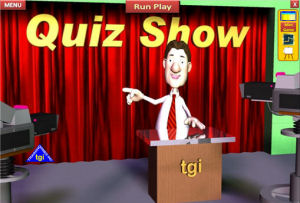 This Quiz Show game is really loaded! We put every feature we could think of in this one. It's really 4 games in 1 with the ability to change the configurations of the 4 base games to over 40 different game variations. It features Team play with up to 8 teams and as many as 20 players per team. Input your own training questions or download popular business, educational, and trivia Question Sets available FREE for our XF Game purchasers - literally thousands of pre-written questions.

Single User License from $99.99
Read more and buy now
Whatís New at TGI
Gary Trotta, our CEO, will be presenting a course entitled Training Games: Learn as you play, and play as you learn at Paradise Community College in Phoenix on August 30th. The course will feature training techniques, interactive exercises, icebreakers, team builders, TGI Games and prizes!

Gary will be presenting a workshop at the Food Marketing Institute Human Resource and Development Conference in Minneapolis, Minnesota on September 11th. The workshop is entitled Creative Training Techniques and will include demonstrations and interactive training exercises. The participants will also see and play several fun training games.

Gary is also presenting a workshop on Creative Training Techniques on September 15th for the LA Chapter of the International Society for Performance Improvement. The workshop will include training games, participative exercises, prizes and FUN!
Famous Quotes & Fascinating Facts
Famous Quotes

"To know how to suggest is the great art of teaching. To attain it we must be able to guess what will interest; we must learn to read the childish soul as we might a piece of music. Then, by simply changing the key, we keep up the attraction and vary the song." — Henri Frederic Amiel 1821-1881, Swiss Philosopher, Poet, Critic

"Once a new technology rolls over you, if you're not part of the steamroller, you're part of the road." — Stewart Brand 1938-, American Editor, Writer

Fascinating Facts

In 1903, the Ford Motor Company was established with a capitol investment of 28,000 dollars. It took them until 1922, almost 20 years, to manufacture one million vehicles and only one more year (1923) to manufacture two million cars.
FREE Question Sets From TGI
Did you know that when you purchase an XF game from TGI, you also receive free game questions? The question sets easily import into any TGI XF game which include:

TGI Quiz Show Game XF
TGI Classroom Quiz Show Game XF
TGI Baseball Game XF
TGI Football Game XF
TGI Race Car Game XF

Sets include:


POPULAR BUSINESS
Customer Service
Diversity
Sexual Harassment
Speaking and Presenting
Teambuilding
Women in the Workplace
Work Force Trends
SPORTS & GENERAL TRIVIA
Leadership 1
Leadership 2
Presentations
Productive Meetings
Baseball
Football
Christmas and Holiday Trivia
EDUCATIONAL
General Trivia
US Presidents
Science Trivia
Vocabulary Words 1
Vocabulary Words 2


Check it out at: (link removed - now expired)

We are also looking to purchase or trade for your question sets on other popular business topics. Contact

[email protected]




Visit our Website at www.training-games.com
Download the TGI Catalog
TGI Presentation Game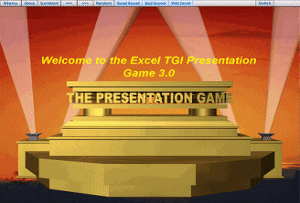 Turn ANY PowerPoint presentation into a Presentation Game with this unique Excel based application. Using The Presentation Game energizes and engages your audience. It's easy to use and you can convert an unlimited number of your PowerPoint presentations into presentation games; and access them all with the press of a button. You can even enhance your presentation by adding game questions, discussion points, additional information, sounds and bonus points to any slide. Converts presentations with up to 200 SLIDES!

Single User Annual License just $74.99 - More information or purchase now
Training Games Inc.
Gary Trotta, CEO
4545 E Hedgehog Pl
Cave Creek, AZ 85331
602-750-7223


[email protected]


www.Training-Games.com
PS..
The sole intention of this email is to introduce you to our company and our products. If you do not want to receive ANY future emails from TGI, please CLICK HERE to REMOVE your email address. We respect your privacy and believe in keeping the Web a wonderful place for all.
© Copyright 2007. Training Games Inc.