Training-Games.com
Issue 15
Learning CAN be fun. Training SHOULD be fun. Training Games ARE fun!
If you are having problems viewing this newsletter, you may also view it online here.
In this Newsletter...
TGI PowerPoint Sports Pack
These sports-themed PowerPoint games are completely editable and can be altered over and over again to accommodate changing training needs. They are based on real life sporting events that everyone watches or plays. Enjoy the competition of baseball, football or golf, along with three different racing games. Play online or in a classroom setting.

Pricing starting at $99.99

Buy now at www.training-games.com/powerpoint_games.html
Recognizing People
The Basic Assumption
I'm about to give you a litany of reasons why it is important for to you and your organization to make people feel appreciated in their work environment. Most of this rationale is courtesy of a great little book I wanted to recommend titled The 24-Carrot Manager by Adrian Gostick and Chester Elton. But before going into the many good reasons there are for managers and organizations to recognize and appreciate their employees, I thought it might be best to state the obvious.

The basic assumption is that we should treat people the way we ourselves would want to be treated. I think that most of us would like to believe that at the end of the day we left this world in a bit better place by doing just that. But so often you run into people who are unhappy with their current work situation. They don't leave the job feeling good about themselves. Actually, quite the opposite, they feel somewhat beat up and are glad to be free of the job, even if it is for just the evening. A rather sad outlook if you consider that their work situation accounts for almost 50% of their waking hours on the planet. Quite a harsh sentence, being condemned to a miserable existence for almost half your life. Especially when it is not hard nor is it expensive to help individuals feel appreciated at work.

Managers have a great responsibility in this regard. As a manager you're given this tremendously important role in the lives of the people who work for you. I often ask audiences I'm speaking to if they can think about the people in their lives that are so important to them that a single argument with this person could actually make them lose a night of sleep, become totally stressed out and even stop eating. After we get past our spouse or significant other, typically they agree that there are few others on this short list, but their manager or supervisor is one person that certainly does make the list. Do you think most managers realize they've been granted this enormous power over others? Perhaps not, perhaps because they were so easily handed the responsibility. "John, you'll be managing the West Area team. That's Joanie, Bill, Sam in San Diego, and Audrey in San Francisco. Don't worry you'll get to know all of them over time." Well let's hope so, because if you're Sam or Bill or Joanie or Audrey from San Francisco, this person John has, even before you've even been introduced, become one of those most important people in your life. And they have been granted the power to affect the way you feel on a daily basis. Hey, Superman had to shuttle from Krypton to get such powers, and Spiderman, at least had to put up with a nasty insect bite.
You Are What You Do
The saying goes, "You are what you eat". I guess a case could be made for my resemblance to rocky road ice cream but I don't know. A better saying might be "You are what you do" because we truly define ourselves by what we do. That's why our jobs are so very important to us - they define us. It's the question that often comes up when you first meet a person. "So tell me about yourself, what do you do?", or "Hi Mel, this is Gary, he teaches at the local college", or "Hey Shelia, this is Betty, she's a big shot lawyer."

Recent retirees are often devastated after leaving their jobs. After that 27th round of golf, the game that they believed they'd be enjoying for all eternity suddenly is not so alluring. No wonder. They have lost that thing that for many years defined to themselves and the world exactly who they were. "That's Fred, he's a systems analyst over at Amtech International. He's one great golfer too!" Furthermore, we keep track of almost everything we do. In other words, we use what we do to reinforce our definition of ourselves daily. I remember working for a large product corporation as a field sales representative. The job was all about putting product displays and advertising in retail stores. Each time I'd set a store I would think to myself, Wow, if my manager could see this store he'd flip! But the reality is I set 1000s of stores, and my manager would only see a very small number of these. Many employees say to themselves, "If they only knew how much I really do."

So here's the rub. We want to be recognized for everything we do, naturally it's what defines us. From a manager's perspective this would of course, be impossible to do. But if our manager, who is so important to us, fails to recognize even a small amount of what we do, we feel unappreciated. Imagine the dilemma, the thing that defines you, what you do, is oblivious to that all-important person in your life, your manager.
Just the Facts
According to Gostick and Elton, "research shows that over 3/4ths of all workers don't feel committed to their organization, and don't plan to stay for more than a couple of years. The average turnover in North America is 20% per year. When you do the math surrounding the loss of valuable employees, and take into account the cost of lost intellectual capital, as well as the added costs of hiring, recruiting, relocation and training new employees, who, by the way, will not be fully competent for another 6 months, it makes good sense to do all we can to hold on to our valued employees.

The 24-Carrot Manager tells us that "In 1949 Lawrence Lindahl asked employees to rank the rewards of their jobs. Then he asked managers to rank what they thought employees wanted." Managers thought their employees would rank "Good Wages" as number one, and "Job Security" as number two. To their surprise employees ranked "Being appreciated" as number one, and being "Involved, and in the know" as number two. We are what we do and how we feel on a daily basis is more important to us than what we earn! The study was repeated in 1990 and guess what, the results were exactly the same.
Organizational Culture Counts
Smart organizations find ways to appreciate employees from the very top down. Don't underestimate the power of your top people to define the organization's culture. Organizational members are constantly on the look out for what gets noticed. It is our survival instinct. People rapidly learn how the place is run and match their behavior accordingly.

When I speak about appreciating people and recognizing employees I am not only referencing the fact that the employee formally receives a gold pin after a year with the company as well as a bump in pay. In fact, more important is the level of appreciation employees feel on a daily basis. Gostick and Elton believe that employees should receive earned verbal praise at least one time per week. Doing this is easy if managers are trained to catch their people doing something right. In order to recognize people, you have to know who they are. People are constantly trying to show their wares; the stuff that makes them different and unique. Good managers quickly pick up on an individual's talents and then SUPER SIZE IT! They deploy such talent to make the organization better and then find ways to let everyone within the organization know about the great talent they've just discovered. And best of all, in the process people become recognized; feel appreciated and always, always come back for more.
Presentation, Presentation, Presentation
The three rules of real estate (Location, Location, and Location) have been touted for the last 40 years, but the point is well made. Similarly The 24-Carrot Manager lets us know about the importance of "Presentation" when it comes to recognizing people. "Hey great job Sam", or "I love your work, Sally" are nice comments from the boss but too vague to really recognize initiative. Remember "We are what we do" and in this regard we want to be sure that our manager really does know what we do. Knee-jerk compliments just don't pack the needed punch. When you as a manager recognize someone you want to be explicit. "Marty, I watched you work with that irate customer. You handled the situation very well. You listened to the customer's complaint, told the customer you understood their situation, offered the customer several realistic solutions and assured them that their business was extremely important to us. The customer not only purchased our product but actually upgraded to the better model. You did a fabulous job in meeting our customer's expectation and great job in meeting our company's objectives."
Verbal Praise, Informal and Formal Recognition
Employees can be recognized and appreciated in many different ways. Gostick and Elton provide an overview.

• Verbal Praise – Provide verbal praise to organization members at least once a week. Remember it should be specific and reflective of company goals and if possible in earshot of other employees.

• Informal Recognition – Cards, movie tickets or a free lunch all work well. Again make these as personal as possible or you run the risk of throwing out the baby with the bath water. Remember first and foremost, it is not so much the reward, but that the employee feels that it was given to recognize them for who they are and their contribution to the company. "I wanted to give you these tickets to say thank you for the great job you're doing, but what I really wanted to tell you is that I appreciate your hard work and effort every time you do the store inventory. Your attention to detail always results in improving this company's bottom line, and I want you to know that I really value your efforts." Try to provide informal recognition to employees at least once a month but make sure these don't become routine and impersonal.

• Formal Recognition – Some organizations fall into the trap of allowing formal recognition to become their ONLY form of recognition. A great quote from The 24-Carrot Manager – "As one employee told us, it's hard to celebrate if you're being beaten up all the way to the party." Formal Recognition does not happen as often, but when it does in an organization it should be a moment worth remembering. Formal Recognition should be one of the most memorable experiences in the employee's life and it is important that the reward match the occasion. Somehow, a coffee cup does not equate to doubling sales for the third quarter in a row. Gostick and Elton recommend that formal recognition should occur to 40% of your employees on an annual basis.
Some Unique Recognition Ideas
I picked out a few of these from the book. I thought they were rather unique:

1. Send a letter of praise to the employee's spouse or family
2. Volunteer to do their least favorite job
3. Wash their car
4. Buy lunch for the employee and several co-workers
5. Pay one month for a fitness fanatic's gym membership
6. Give them a paid sabbatical to the training of their choice
7. Give them a day at the spa
8. Create a year book for the team with pictures and stories of accomplishments
9. Milestone Award – A scrapbook of memories for the honored employee – Give team members each a blank page to complete with stories and pictures
10. Ask them to mentor a new hire
11. Interview your star employee and publish their improvement ideas.
12. Take the team to an inspirational movie on Friday, and give them the rest of the day off.


Products From TGI
Contact

[email protected]

or call 602-750-7223
TGI Baseball Game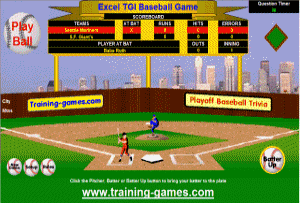 This new version of our best selling sports game breaks new ground for training. It gives you the sights, sounds and action of Major League Baseball and the play is driven by answering your training questions.

Key Baseball Game Features include:
- Animated pitching and base runners
- Great game sounds
- Plays just like a real baseball game
- Input your training questions directly into the game
- Handles up to 100 multiple choice, true/false or fill in the blank questions
- Enter questions in up to 3 different categories

Pricing Starting at just $74.99 for Single User Annual License.
Visit www.training-games.com/baseball.html to purchase and view additional licensing options.
Famous Quotes
Jean de La Bruyére - "Every man is valued in this world as he shows by his conduct that he wishes to be valued."

William James - "The deepest craving in human nature is the craving to be appreciated."

William Dean Howells - "I know, indeed, of nothing more subtle satisfying and cheering than a knowledge of the real good will and appreciation of others. Such happiness does not come with money, nor does it flow from a fine physical state. It cannot be bought. But it is the keenest joy, after all; and the toiler's truest and best reward."
TGI 6-Pack PowerPoint Games
There are two ways to use our new 6-Pack PowerPoint game. Option One! Enjoy all the action of virtual gaming using any one of the popular shared desktop or conferencing applications. Option Two! Our six PowerPoint Games are great fun in a classroom setting, and may also be posted on your organization's server, company intranet or any secure page on your website. Games include a FREE PowerPoint scoreboard.

For more information, go to http://training-games.com/powerpoint_games.html


Visit our Website at www.training-games.com
Download the TGI Catalog
Training Games Inc.
Gary Trotta, CEO
4545 E Hedgehog Pl
Cave Creek, AZ 85331
602-750-7223


[email protected]


www.Training-Games.com
PS..
The sole intention of this email is to introduce you to our company and our products. If you do not want to receive ANY future emails from TGI, please CLICK HERE to REMOVE your email address. We respect your privacy and believe in keeping the Web a wonderful place for all.
© Copyright 2007. Training Games Inc.