Training-Games.com
Issue 7
Learning CAN be fun. Training SHOULD be fun. Training Games ARE fun!
In this Newsletter...
What's New at TGI
New TGI partners for May 2007 include:

The Learning Consortium – View their website at www.the-lc.org.
Providing valuable resources for training partners.

Ready Set Present – View their website at www.readysetpresent.com.
ReadySetPresent has everything you need to produce a professional, dynamic, top-quality presentation.

Become a TGI partner and sell our games on your website!
Contact

[email protected]



The TGI Bookstore is now OPEN! www.training-games.com/TGI_book_store.html
Training Myths
Harold D. Stolovitch and Erica Keeps dedicate an entire chapter in their book Telling Ain't Training to dispelling myths about learning. I've listed a few of these myths and added some additional thoughts about each.

1. Performance experts make the best trainers.
We've all known experts who have had a difficult time explaining the very thing they know how to do so well. Part of becoming an expert entails consolidating what we know. This however can cause an expert to skip over the details. And the details are important to new learners.

Instructing on the other hand is really more about having a concern or understanding of where your learners are at rather than simply imparting what you know. Learners, of course, must also be motivated to learn. So the ability to relate to and engage your learners is an important part of the process.

As individuals, our instinct is always to protect and promote ourselves within our own environment. So it is not surprising that when placed in front of an audience and handed the microphone we are not tempted to first establish ourselves by telling everything we know. But good trainers are confident enough in what they know, to stop, ask questions, and listen.

I met a fellow the other day over lunch that was very knowledgeable on many different subjects. He did not hesitate to tell you all he knew, however, as soon as the conversation shifted to another speaker, his head turned from the table, his eyes wondering across the room, as if it was absolute torture for him to listen to another speaker for even a single moment. Unfortunately, as it turns out, this self absorbed individual was, yes, you guessed it, a teacher.

2. People process information differently, so it is important to determine individual learning preferences and incorporate these into your teaching style.
This is sort of true. For example some of us prefer to process information delivered to us through our hearing verses received visually. Some enjoy processing data that is delivered to us sequentially, or in small bits rather than having to engage in complex reasoning or problem solving. It would be difficult however in a classroom setting to determine individual learning preferences, and impossible to tailor a program that would meet and match each individual's learning style. Our best alternative is to ensure that we offer a sort of mixed bag and incorporate many different learning methods to help people to assimilate the learning.

3. The more enjoyable the instruction the greater the level of learning achieved.
You'd think a guy like me, who develops training games, would really come down on the side of this particular myth. It turns out however that enjoyment in and of itself does not directly correlate to better learning. Learning is hard work and "effort in" naturally correlates to positive results.

Trainers often get rave reviews when the training is made fun. Participants comment that the class was great because they enjoyed the review game at the end of the class, but they really did not learn much. Often our customers are looking for something that will "spice up" the learning experience. They may have tried a game at one time or another and found their class loved it. Games are fun, but if not done correctly, can be tantamount to tossing the baby out with the bath water.

It is great to play a game and have your group energized as they answer true/false and multiple choice questions to try and win. But imagine using these moments when people become energized and interested to inject some additional learning. To learn you need first to be attentive. Games are great attention grabbers. I am simply suggesting stopping the game for a moment and giving learners an opportunity to think about, discuss, and explore the learning. We have tried to design games that allow trainers to train while playing the game. In most TGI games after the question is asked or answered the trainer has the opportunity to expound on the topic by introducing additional information (perhaps a mini- PowerPoint presentation) or a training exercise. In this way the game can be used to deliver new information rather than just a review piece. The process of capturing a participant's attention and then providing them a means of assimilating the information is key to successful learning.
I'll talk more about learning myths in our next newsletter. I don't want to run the risk of losing your attention now.
Products From TGI
Contact

[email protected]

or call 602-750-7223
Famous Quotes and Fantastic Facts
Famous Quotes:
"The great enemy of the truth is very often not the lie: deliberate, contrived, and dishonest; but the myth: persistent, persuasive, and unrealistic."
—John Fitzgerald Kennedy

"We must not be hampered by yesterday's myths in concentrating on today's needs."
—Harold Geneen

Fantastic Facts:
In ancient Greek mythology Morpheus is the god of dreams (Hypnus is the god of sleep).

What animal has the largest eyes?
—The giant squid has eyes, each about one foot in diameter. It is also the largest creature without a backbone, and weighs up to 2.5 tons and grows to 55 feet in length.
Low Cost Training Modules are New from TGI
1. Certificate Maker – http://training-games.com/support_tools.html#certificate

2. Quote Maker – http://training-games.com/support_tools.html#quote

3. Question Presenter – http://training-games.com/support_tools.html#question

4. Scoreboard Plus – http://training-games.com/support_tools.html#score

5. The Big Spin – http://training-games.com/support_tools.html#spin

$ 19.99 Each. Combine these great modules for a terrific training program.
The NEW Quiz Show Ultima Game from Training Games Inc.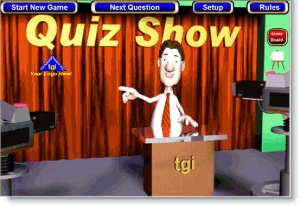 (Single User License $ 99.99)

–Contains four great quiz show games (2 team/ 2 single play) including our latest single player game we call "All The Way?", a millionaire-type game
–The ability to interface with USB buzzer systems or work stand-alone buzzers
–A database to track individual player games and monitor their learning progress
–A bigger Question/Answer screen, for easy viewing in large meeting rooms
–Attach PowerPoint graphic slides to your questions
–And many, many other features.
(All trainer/teacher features listed at:
www.training-games.com/quizshowultima.html)
Let's Make a Deal!
A great new game based on the popular television show

"Deal or No Deal"

except that participants must answer your training questions to keep the values they choose. Add this great game to your training program! All the excitement, sounds and tough decisions of the real game!

CHOOSE THE OFFER OR THE DEAL!!!!!

Full game features description go to:

(sorry, this game is no longer available)


Visit our Website at www.training-games.com
Download the TGI Catalog
The Presentation Game 3.0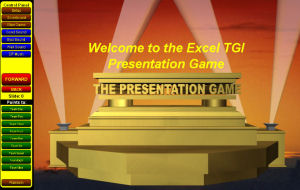 The Presentation Game 3.0 turns your PowerPoint presentation into an interactive Game!

Convert an unlimited number of your PowerPoint presentations into presentation games and access them all with the press of a button.

(Single User License $ 74.99)

See all details at : www.training-games.com/presentation-game.html
Training Games Inc.
Gary Trotta, CEO
4545 E Hedgehog Pl
Cave Creek, AZ 85331
602-750-7223


[email protected]


www.Training-Games.com
PS..
The sole intention of this email is to introduce you to our company and our products. If you do not want to receive ANY future emails from TGI, please CLICK HERE to REMOVE your email address. We respect your privacy and believe in keeping the web a wonderful place for all.
© Copyright 2007. Training Games Inc.