Training-Games.com
Issue 9
Learning CAN be fun. Training SHOULD be fun. Training Games ARE fun!
In this Newsletter...
What's New at TGI
FREE Question Sets

We wanted to create a point of difference with our new XF Games. The XF stands for eXtra features, and these games are loaded with helpful features for instructors. Along with the many great features that come with our XF games we are also offering FREE question sets. TGI provides XF game purchasers with over 30 different question sets, which are easily imported into your XF game, and are each completely editable. Topics include popular business training such as Customer Service, and Leadership, Educational subjects like the US Presidents, and Vocabulary Words, and finally fun sports and general trivia questions.

Purchase one of TGI XF Games (TGI Quiz Show Game XF, Baseball XF, Football XF, Race Car XF and Deal Game XF) and receive our valuable question sets FREE!

Ready Set Present!

Find presentation-ready slides developed by Ready Set Present, available on these popular training topics at www.presentationgame.com/readysetpresent.html:

Assertiveness
Challenging Employees
Change
Coaching Skills
Communication
Conflict
Customer Service
Decision Making
Delegation Diversity
Empowerment
Gender Differences
Goal Setting
Interviewing
Leadership
Meetings
Mentoring
Motivation
Negotiation
Performance Evaluation
Problem Solving
Procrastination
Sales
Stress Management
Team Building
Time Management
When I call you knucklehead, I mean it in a good way
Managing people is not easy, and although there are many good people managers, there are perhaps as many bad ones. Corporations work hard to find good managers, but at the same time are partially responsible for allowing poor managers to remain in place for long enough periods of time to do significant damage to their subordinates.

Here is a particularly sad story which happened to a friend of mine, and a person I was lucky enough to manager for about a year. When he worked for me, Rick was a very enthusiastic, upbeat, confident, and an overall good employee. We worked as a team, and I believe did quite well to move corporate objectives ahead. Through a corporate merger, I was fortunate to be able to take an early retirement. Unfortunately for Rick, he found himself moving into a new organization whose culture was extremely "top down". There was talk about improving the corporate culture, allowing it to evolve into an open, caring and overall friendlier place to work. For whatever reason, this simply did not happen. Rick was particularly unfortunate because he inherited a manager who epitomized this top down, uncaring, unfair and unforgiving old corporate culture. In his very first meeting with his new manager, she informed him that she had never asked for an assistant and believed she did not need one to do her job. She told him she believed his position would just be temporary, and was not sure what would happen to Rick if his job suddenly dissipated. The poor guy had just gone through one of those "pins and needles" years where every day you worry about the pending merger, and now this was piled on his plate. Rick was about to be served a three year meal of degradation, lightly seasoned with blatant disdain and topped with an unhealthy sprinkling of nasty notes and nastier comments you probably wouldn't even whisper to your neighbor's barking dog. When he phoned his manager, she would answer his calls, not with the customary "Hi Rick" most folks might expect, but instead with the words "WHAT DO YOU WANT". Wow, 4 little words that say, "Did you realize how unimportant you are, and most anything you have to say to me is just going to annoy me". Can you imagine having to call someone several times a day and receiving this kind of a greeting?

Many managers don't realize how important they are to their employees. I submit to you these questions. How many people are there in the world that can cause you to lose your appetite? How many people are there in the world that can cause you to lose sleep? Think about it, your husband, wife, or significant other? More than likely your boss or supervisor is actually at the top of this very short list.

I give my friend Rick credit for sticking it out for three years although he did spend some part of this time searching for other work. The three years did take its toll however. In the end Rick had developed acute stomach problems, having to be rushed to the hospital on one occasion. The doctor insisted he have a colonoscopy performed. He scheduled the test immediately and had it done. His boss' comment after the test? "How are you feeling Rick, did everything go okay". You'd expect such a response but her response went something like this, "Rick, things have been really hectic around here and I'd really wish you could have found a more convenient time to schedule all this stuff". After three years Rick was not the confident individual I once knew. He was in counseling, riddled with health concerns, and finally told his boss he was quitting the company. Surprisingly he had always maintained a high performance rating on his job, but he knew he could not sustain this level of performance very much longer, and for Rick that meant it was time to quit. He was a 45 year old man and between the old and new organization had compiled 20 years of service. He'll get some retirement, but as most of us know, retirement plans typically impose substantial penalties for service years short of the required 30. Rick was losing something he would probably never be able to get back.

This sort of managerial horror show is not new, and really not all that different. I am certain all of you know someone whose quality of life was reduced to nil by a person who just did not know how to manage people. Often these folks are accomplished sales people, technical wizards or administrative giants, but when it comes to people they seem to simply lack the good sense to be able to manage.

Many organizations ask departing employees, such as Rick, to do exit interviews, but typically the worst of these organizations do little with them. So I write this not so much for organizations, but for people who manage other people. It is tantamount to torture to work for someone who makes you feel worthless. If you have been privileged by an organization to manage others, please understand the importance of your position. You must realize that the instant you were GIVEN the job, you became immensely important to those people you were selected to manage. From a day-to-day point of view, you may be the MOST important person within the lives of these individuals. They will be hanging on your every word, even words that you believed were said in a "just off the cuff" manner. They are actively recording your smiles, your frowns, your gestures, your concerns. What you drink, eat, and the kind of clothes you like to wear are now a matter of interest to them. They will ask others where you are, what you thought, what you said and how you felt about anything from politics to pole vaulting. And they do all this because when you became their boss, what you thought and felt suddenly became important. Not to the world, the world thinks as little about your opinions as it always did. But to them they are important, and simply understanding this, will make you a better manager.
Products From TGI
Contact

[email protected]

or call 602-750-7223
Famous Quotes
John Music - "Many managers know how to get things done through people, to turn people into tools, but not how to direct them, inspire them or motivate them. Leadership provides a scenario to the people they're leading. People are willing to work their butts off if you give them an objective, show them how to reach it, and prove that you mean it through action and consistency."

Peter F. Drucker - "Most of what we call management consists of making it difficult for people to get their work done."

Stephen R. Covey - "A cardinal principle of Total Quality escapes too many managers: you cannot continuously improve interdependent systems and processes until you progressively perfect interdependent, interpersonal relationships."
Drawing to Learn: Works even if you never learned to draw
We are always looking for creative exercises that will cement learning. One rather easy one is to allow student to draw their understanding. Having students provide a visual representation of what has just been taught will help them to assimilate the learning. It also gives you (the instructor) some insight into the level of understanding that has been achieved. Visual representations might include charts, graphs, diagrams, timelines, maps, cluster maps, sketches, cartoons, expressive drawings, constructions and many other forms.

From Teaching for the Two-Sided Mind a quote from Bob McKim, "Every graphic expression embodies a viewpoint, a single way of looking at reality; by encoding an idea in a variety of graphic languages, the visual thinker represents the idea more completely ….every time the thinker changes graphic languages, he submits his ideas to a new set of built-in mental operations."

Visualization is a largely right brain activity, and allows us to combine what we've learned which leads to better conceptual understanding.
Excel TGI Quiz Show Game XF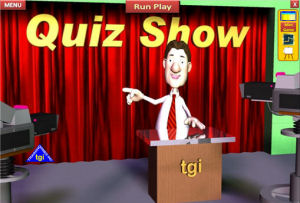 This Quiz Show game is really loaded! We put every feature we could think of in this one. It's really 4 games in 1 with the ability to change the configurations of the 4 base games to over 40 different game variations. It features Team play with up to 8 teams and as many as 20 players per team. Input your own training questions or download popular business, educational, and trivia Question Sets available FREE for our XF Game purchasers - literally thousands of pre-written questions.

Single User License from $99.99
Read more and buy now
Visit our Website at www.training-games.com
Download the TGI Catalog
Training Games Inc.
Gary Trotta, CEO
4545 E Hedgehog Pl
Cave Creek, AZ 85331
602-750-7223


[email protected]


www.Training-Games.com
PS..
The sole intention of this email is to introduce you to our company and our products. If you do not want to receive ANY future emails from TGI, please CLICK HERE to REMOVE your email address. We respect your privacy and believe in keeping the Web a wonderful place for all.
© Copyright 2007. Training Games Inc.