Training-Games.com
Issue 11
Learning CAN be fun. Training SHOULD be fun. Training Games ARE fun!
If you are having problems viewing this newsletter, you may also view it online here.
In this Newsletter...
What's New from TGI
TGI 6-Pack PowerPoint Games are new! Our six PowerPoint Games are great fun in a classroom setting, and may also be posted on your organization's server, company intranet or any secure page on your website. Let your people learn and play through your training materials, at their own convenience. These PowerPoint Games are designed to be played online. All games are completely editable and can be altered over and over again to accommodate your changing training needs. They are based on popular game shows that everyone has played and enjoyed. We have also included a FREE PowerPoint Scoreboard and have a Tutorial on our site which reviews each game contained in this great game package. We've posted it on our server to run on the internet for your viewing. This is exactly how our PowerPoint games will run when posted on your server or on your organization's website. Read more and purchase here!
New Generation Training
In this newsletter article I wanted to review some of the great training advice given by Susan El-Shamy in her book How to Design and Deliver Training for the New and Emerging Generation. Obviously Susan likes to keep her book titles short. Before I begin however, I like to say that this book is simply filled with practical, applicable trainer advice. It is heavy on substance and you'll not find yourself asking the question "Where's the Beef?" (Classic Wendy's Hamburger commercial).

Regarding new generation training, Susan reminds us to "Pick up the pace". She tells a short personal story of how she and her daughter went to an Elvis Costello concert. She relays how her attempts to "Swing and Sway" to the music, while other younger listeners were jumping up and down to a driving beat, represents a good analogy to attempting to train younger generations using traditional training methods. Boomer style training is slower, and more measured, while younger generations have grown up with a fast and unrelenting MTV Beat. They simply prefer a faster-paced training program.

Susan recommends to us that we start our program with a BANG! Do something in the beginning that will set the pace of the program. Tell folks they are in for a fast, fun, engaging and exciting ride and then let the show begin.

She also advises that you have an on-going activity (perhaps a Game or Quiz Show) that runs throughout the entire program. I know I sound a bit solicitous with such a recommendation, but I figured you'd understand. Here are some quick bullets about beginning your program, which Susan more completely expounds upon in her book –

1. Start with a "sound and light show" (A little flash can go a long way in setting the tone of the meeting),
2. Start with a contest or,
3. Start with a test,
4. Keep moving as you train,
5. Ask rhetorical questions, and finally
6. Get them up and moving as well (It is important that they understand that the class will be interactive, and their participation is most welcome).

You might be saying that some of this is throwing the baby out with the bath water. After all, how can you deliver the information you need to convey and still inject all this activity? Susan provides several good suggestions for how information might be presented but in a different way.

1. Post basic information; remember you don't have to personally deliver every word. People will pick up on what they see around the room; such information can serve as training references, and will probably elicit great questions.
2. Present information in chucks. We can hold only 5 – 9 individual bits of information in our short term memories for about 15 seconds. However if you take care to organize and present information in related chunks trainees can hold and more quickly assimilate information into their long term memories.
3. Have reference information available for taking home after class, and consider placing such information on disk.

Let's talk about increasing program interaction. Susan states "Younger learners crave interaction, with each other, with the material, with problems and information, and with experts and people who are really in the know." Learning is a two step process, first you grab the learner's attention and then you provide them a means to engage with the information. Learning is an individual thing; it can't be coerced, but instead must be consumed. You know the old adage, "You can bring a horse to water …" And while we are on the subject, Susan recommends we cut waaaaay back on the lecture.

I've stepped out on a very shaky branch here and offer you this small lyric.



He served up words of wisdom
Alas, pearls prepared for swine
As they drifted high above each head
And seldom came to mind.

But uncork a clever query
Just ask and let them find
For when they choose to raise a glass
They'll more likely drink the wine.



Okay I promise, I'll give up poetry.

Here are some characteristics Susan uses to describe the "Ideal Instructor" (I paraphrased a bit) Enthusiastic, even passionate about their subject. Funny, and has a good sense of humor. A good listener; one who includes everyone and naturally cares about each student. An approachable individual who also allows their audience to feel comfortable.

And one more thing….When dealing with younger learners, "Technology is important". Use multimedia, films, streaming video, TV clips and lots of music. Consider integrating technology (the internet) into your program exercises (As in you are welcome to use the computers and the internet to work on this problem). Digital cameras can add to a training experience. In effect you construct an environment that is not only comfortable but engaging to your new learners.

Obviously I'm a fan of Susan El-Shamy and her work.
TGI Deal Game XF
A great new game based on the popular television show

"Deal or No Deal"

except that participants must answer your training questions to keep the values they choose. Add this great game to your training program! All the excitement, sounds and tough decisions of the real game!

CHOOSE THE OFFER OR THE DEAL!!!!!

Full game features description go to: www.training-games.com/deal_game.html (Single User License $ 99.99)

Download free game NOW!
Products From TGI
Contact

[email protected]

or call 602-750-7223
TGI Baseball Game XF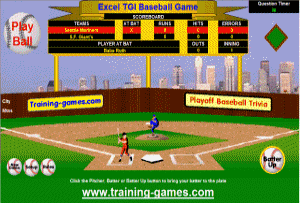 This new version of our best selling sports game breaks new ground for training. It gives you the sights, sounds and action of Major League Baseball and the play is driven by answering your training questions.

Key Baseball Game Features include:
- Animated pitching and base runners
- Great game sounds
- Plays just like a real baseball game
- Input your training questions directly into the game
- Handles up to 100 multiple choice, true/false or fill in the blank questions
- Enter questions in up to 3 different categories

Pricing Starting at just $74.99 for Single User Annual License.
Visit www.training-games.com/baseball.html to purchase and view additional licensing options.
Famous Quotes and Fascinating Facts
Famous Quotes:
Lucius Annaeus Seneca - "As long as you live, keep learning how to live."

Will Rogers - "It's great to be great, but it's greater to be human."

John Naisbitt - "In a world that is constantly changing, there is no one subject or set of subjects that will serve you for the foreseeable future, let alone for the rest of your life. The most important skill to acquire now is learning how to learn."

Fascinating Fact:
The Roman had three words for kissing – basium, osculum and savium, what, you ask, was the distinction? Basium was a kiss exchanged by acquaintances, osculum, a kiss among friends, and suavium a kiss between lovers.
Let's Play the TGI Football Game XF!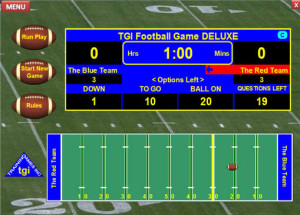 This is a fun and interactive team game in which answering your training questions correctly moves the ball down field. As your team gets the answers right, you'll score TDs, extra points, and field goals. Wrong answers result in lost yardage, fumbles and turnovers. This game is packed with great trainer features like automatic scoring, game timer, both team and individual play. Trainers can attach graphics, movie files, sounds and even PowerPoint mini – presentations to ANY question so the game can be used for program delivery as well as general review.

Pricing starting at $99.99 - More information or purchase now
The Generations
The Veterans
Born 1922 – 1944 (now 62 – 84 years old)
Things they have experienced and remember include:
Stock market crash – 1929
The abdication crisis – 1936
The Bombing of Darwin – 1942
VJ day – 1945
Korean War - 1951-3

Veteran Values and Traits
Hard Work and Thrift
Dedication and Sacrifice
Respect for Authority and strict adherence to rules
Duty before Pleasure
Veterans in the workplace
Seniority and age are directly correlated
Acceptance of directive leadership
Obedience and Conformity over Individualism
Work ethic relates to a "manufacturing" economy (level of input correlates with amount and quality of product)

The Baby Boomers
Born 1945 – 1964 (now 61 – 42 years old)
Things they remember include:
Television
Rock Music
The Pill
Moon Landings
The Kennedy assassination (USA)
The Cold War
Vietnam

Baby Boomer Values and Traits
Optimism
Security
"Liberation"
Personal growth and gratification
Health and wellness
"Involvement" rather than "teamwork"

Baby Boomers in the Workplace
Service oriented (a legacy of the veterans)
Uncomfortable with conflict
(Overly) sensitive to feedback
Opinionated and Judgmental
Difficulty accommodating alternative views
Respond well to directive leadership, but understand complex organizational behavior

Generation X
Born 1965 – 1980 (now 26 – 41 years old)
Things they have experienced and remember include:
Feminism
Oil, Energy and Nuclear Power
Personal Computers
AIDS
Economic rationalism
"Latch key" children

Gen X Values and Traits
Techno-literacy
Diversity and Informality
Balance and fun
Self-reliance
Motivated by independence, lack of rigid structures, technological advance and equity

Gen X in the Workplace
"This is just a job" (gasp, shock, horror)
Flexible hours
Informal work environment
Negotiated Supervision "Give them lots to do and the freedom to do it their way"
Multi-tasking
Distaste for corporate politics
Work ethic is influenced by the globalization and the "information economy"

How do you Teach, Train and Engage Gen X
Use diverse methods, including web technology
Use adult, self-directed learning techniques
Expect and answer questions
Validate the need for work-life balance
Less need for traditional "perks", but they resent the inequity if they see the Boomers getting excessive perks

Generation Y
Born 1981 - ? (Now up to 25 years old)
Things they have experienced and remember include:
The Internet
Laptops
Mobile Phones
9/11, Madrid, London

Generation Y Values and Traits
Optimism and Confidence
Civic Duty and Morality
Techno-savvy
Street smart and tenacious
Group oriented
Heroic

Training Generation Y in the Workplace
Challenge them
They are better team workers than their sibs from Gen X
They want inspiration
They want heroes
They want it now!
Visit our Website at www.training-games.com
Download the TGI Catalog
TGI Truth or Consequences Teambuilder Game
This fun game from TGI is a training game, team builder, and icebreaker all rolled into one. Groups will enjoy the many team building exercises built right into the game and it will get class participants involved from the first consequence. A true Multi-Game. It comes loaded with a set of (50) Pre-defined Team Building exercises, (50) Ice Breakers questions and (50) Consequences. You can edit them or enter your own.

And the price is right... Single User License only $29.99 or 10 User License Just $59.99

Read more and buy now on our Icebreakers - Teambuilders page
Training Games Inc.
Gary Trotta, CEO
4545 E Hedgehog Pl
Cave Creek, AZ 85331
602-750-7223


[email protected]


www.Training-Games.com
PS..
The sole intention of this email is to introduce you to our company and our products. If you do not want to receive ANY future emails from TGI, please CLICK HERE to REMOVE your email address. We respect your privacy and believe in keeping the Web a wonderful place for all.
© Copyright 2007. Training Games Inc.