Training-Games.com
Issue 17
Learning CAN be fun. Training SHOULD be fun. Training Games ARE fun!
If you are having problems viewing this newsletter, you may also view it online here.
In this Newsletter...
Confucius Says
What I hear ... I forget
What I see ... I remember
What I do ... I understand

Mel Silberman author of Active Training modified this a bit to read…

What I hear, I forget.
What I see and hear, I remember somewhat.
What I hear, see, question, and discuss with others, I begin to understand.
What I see, hear, question, discuss, and do, I learn.
And after all this, when I teach, I master the learning.

Silberman, although a tad less poetic, I believe is closer to what actually happens.
TGI Deal? Game

TGI's Deal? game is based on the popular television show

"Deal or No Deal"

. In our version participants must answer training questions to keep the values they choose. Add this great game to your training program and get all the excitement, sounds and tough decisions of the real game!

Will they take a chance and buy the Lockbox or play it safe and take the offer?


For full game features description, go to: www.training-games.com/deal_game.html
(Single User License $ 99.99)

Download free demo game NOW!
Products From TGI
Contact

[email protected]

or call 602-750-7223
Making PowerPoint More Interactive
Here's a small experiment to try. Record an interesting science program or even a newscast on whatever version of TIVO you might own. Listen to the recording (maybe about ten minutes of it) and concentrate on what is being said. Now simply rewind, and listen to your recording again. This time stop the recording whenever you hear something new. Something you missed the first time around. If you're like me, you probably missed more than half of the relevant facts, and you find yourself stopping quite often. Not a very complicated experiment, but if you're a teacher or trainer, kind of an eye opener. The point is, even when we concentrate on a speaker, we miss a lot.

As a speaker, you figure, "Hey, I said what I know and naturally now everyone knows what I said." NOT SO. We miss a lot.

According to Mel Silberman, author of Active Training, trainers, teachers, speakers, speak at the rate of about 100 – 200 words per minute. If listeners are listening intently, they might pick up about 50% of what is being said. That's 50% within the first 15 minutes. The percentage of retention plummets with every passing minute. Silberman says that listeners, without thinking, can hear about 400 - 500 words per minute. With a trainer only producing 1/4 this amount it leaves our listeners with a lot of wander and wiggle room, and eventually their minds do stray.

Many of you know all this, but the fact remains it is difficult to deliver content without lecturing. For all its known evils, lecture, only netting us miniscule retention rates (5 – 10), is an extremely efficient (albeit not very effective) way to teach. Our hats are off to teachers who must drive through a semester's worth of material to ensure the curriculum has been formally and fully covered. Unfortunately, early dreams of dynamic interactive teaching to eagerly awaiting minds seem to only fade with tenure.

So rather than simply citing the problem, I wanted to offer a few ways to build some interactivity into your PowerPoint presentations. The solution lies in having your audience tell you what you're about to say, before you get to say it. Sometimes the simplest suggestion is the best, so here goes. ASK QUESTONS. Better yet, ask open ended questions; even better, put the questions right into your presentation so you don't forget to ask them. Most lectures devote less then 5% of their teaching time to questions and discussion of the material.

One method I like to use to elicit responses from my audience sort of resembles the old Family Feud Quiz Show. You know, "Survey Says". Imagine a list of buttons 1 – 7 on your slide. Perhaps the question is "who can tell me one of Stephen Covey's seven habits of highly effective people" (as an example). Someone yells out from the back of the room, Think Win-Win. Great, you say, and you click on the number 4 button on your slide, and, you guessed it, Think Win-Win pops up. Now imagine you click another button adjacent to our number 4 button, and your presentation goes to a slide that says "Covey calls this the habit of interpersonal leadership, necessary because achievements are largely dependent on co-operative efforts with others. He says that win-win is based on the assumption that there is plenty for everyone, and that success follows a co-operative approach more naturally than the confrontation of win-or-lose." You then ask what do you think about this, allowing an interesting discussion to ensue. After this brief discussion, you click on a return button at the bottom of your slide, and you again ask "Can anyone give me another of Covey's Seven Habits?" A voice calls out "Sharpen the Saw", you click on button number 7 and Sharpen the Saw appears. You continue on. You can even make a game of it awarding points as your audience provides the correct answers.

Now you're probably saying "nice idea, but how do I do this." Well, it is all quite doable in PowerPoint. I put a full explanation within this PPT presentation. Simply click here to get the PowerPoint.
TGI Quiz Show XF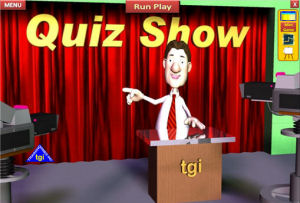 This Quiz Show game is really loaded! We put every feature we could think of in this one. It's really 4 games in 1 with the ability to change the configurations of the 4 base games to over 40 different game variations.

It features Team play with up to 8 teams and as many as 20 players per team. Input your own training questions or download popular business, educational, and trivia Question Sets available FREE for our XF Game purchasers - literally thousands of pre-written questions.

Single User License from $99.99
Read more and buy now
Famous Quotes
Albert Camus - "Some people talk in their sleep. Lecturers talk while other people sleep."

Ambrose Gwinett Bierce - "LECTURER, n. One with his hand in your pocket, his tongue in your ear and his faith in your patience."

Aristotle - "Teaching is the highest art of understanding."
TGI PowerPoint Games
Our new 6-Pack PowerPoint Games are great fun in a classroom setting, and may also be posted on your organization's server, company intranet or any secure page on your website. All games are completely editable and can be altered over and over again to accommodate your changing training needs.

VOLUME 1 INCLUDES:

• Peril
• All the Way
• Tic Tac Dough
• Wheel of Color
• Quiz Show
• Word Jumble
• PLUS free scoreboard & whiteboard

Pricing starting at $99.99

BUY NOW

VOLUME 2 INCLUDES:

• TV Quiz Show Game
• The $1600 Quiz Show
• Pyramid of the Sun Quiz
• Money Taxi Quiz Show
• Truth or Consequences
• 20 Questions Quiz Show

Pricing starting at $99.99

BUY NOW

SPORTS PACK INCLUDES:

• Baseball
• Football
• Golf
• Racecar Game
• Blimp Race Game
• Boat Race Game

Pricing starting at $99.99

BUY NOW
Visit our Website at www.training-games.com
Download the TGI Catalog
Training Games Inc.
Gary Trotta, CEO
4545 E Hedgehog Pl
Cave Creek, AZ 85331
602-750-7223


[email protected]


www.Training-Games.com
PS..
The sole intention of this email is to introduce you to our company and our products. If you do not want to receive ANY future emails from TGI, please CLICK HERE to REMOVE your email address. We respect your privacy and believe in keeping the Web a wonderful place for all.
© Copyright 2007. Training Games Inc.