Training Games PowerPoint MAC 6-Pack Ice Breakers
This product is now available as a free download in our Members Only section. Access to the Members Only Resource Library is just $49.00. Purchase Members Only access here.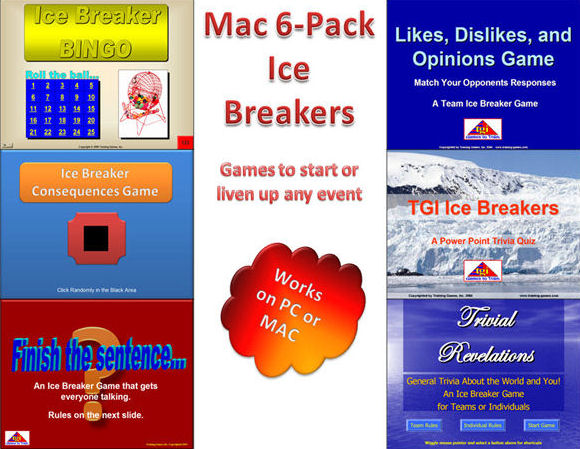 These training games are designed to work on a Mac, but will also operate on your PC. Input your questions from your own training or teaching material.

Games included in this MAC 6-Pack are:
1. Presentation Sensation - Answer these fun trivia questions.
2. Ice Breaker Bingo - Class participants get to know one another as they play BINGO!
3. Ice Breaker Consequences Game - Randomly select fun consequences for your group members to perform.
4. Finish the Sentence Game - See how creative your group can be in "finishing the sentence".
5. Likes, Dislikes and Opinions Game - Match the opposing teams' likes, dislikes, and opinions.
6. Trivial Revelations Game - A trivia game with a revealing twist.

Some of these games are from our classic collection and others are brand new. The Bingo game also includes printable bingo cards, a bingo number tracker and some great custom animation.