Training-Games.com
Issue 18
Learning CAN be fun. Training SHOULD be fun. Training Games ARE fun!
If you are having problems viewing this newsletter, you may also view it online here.

Happy Holidays!

We at Training Games Inc. want to wish you all happiness and good health for the Holidays.
In this Newsletter...
Engaging Presentations for Younger and Older Audiences
The magic word in regard to learning certainly seems to be "ENGAGE". If you can engage individuals with your meaningful message, it is sure to be one that is retained. Unfortunately, engaging individual attention, to the extent that people will actually take it in or learn the information you have to present, is not all that EASY.

An understanding of this fact has also seemingly eluded our educational organizations, if you listen to what students have to say. A mere 21% of perspective high school graduates believe that their course work is interesting - ONLY 21%! 28% would characterize their school work as meaningful and just 39% believe that the work they do in school will have any bearing on their success in later life. I'm not sure whose fault it is, but on average, one researcher claims, students ask a question in class once every ten hours. Can you imagine sitting somewhere for ten hours listening to someone speak and never asking a question about what you're hearing?

Consider these high school student comments: "When I go to school I have to POWERDOWN" and "We have to learn how to play school. We study the right facts the night before the test so we can achieve a passing grade and become a successful student." This cheeky t-shirt wisdom sums it up noting, "It's not Attention Deficit, I'm just NOT LISTENING".

On the other hand young folks are listening to other things. In 2003, 70 percent of our nations 4 - 6 year old children use a computer (Kaiser Family Foundation). In any given day, 68% of children under 2 will use/watch a screened media for an average of just over 2 hours (2:05). Today, by the time a student graduates college, they'll have logged 10,000 hours playing video games (Interactive Video Games, Mediascope, June 1996), 10,000 hours talking on cell phones (Prensky M. Digital Natives Digital Immigrants) and 20,000 hours watching TV (Prensky M. Digital Natives Digital Immigrants).

Studies indicate that 60% and growing (fast) have a practical vs. theoretical orientation to learning (Schroeder 1996). They prefer activities that require direct experience over abstract and reflective learning by a ratio of five to one. "These teens were born into a digital world where they expect to be able to create, consume, remix, and shape material with one another." (Lee Rainie, Director, Pew Internet).

When you speak to teachers and trainers they will tell you that they would love to add more interaction and participation into the classroom. However, it is easier said than done. Small group discussions, projects, student presentations, debates, field trips, exercise simulations, case studies and GAMES, are certainly great learning delivery mechanisms, but when you're accountable for a curriculum that includes all the information covered in chapters 1 through 24 by next month, it is simply more efficient to do a data dump and take that one question at TEN hour intervals.

There is really no simple solution to presenting educational material in such a way that they will engage an audience and result in a higher level of retention. I did, however, want to offer some suggestions:


1. A good presentation should also be entertaining. Often educators assume if they know their subject matter well, and use the conventional methodology to parade it in front of potential learners; they have met their responsibility as "Trainer, Teacher, Speaker, or Instructor". Not so. I believe a reasonable attempt to infuse interest and humor into a presentation should be more than just a last minute consideration. Especially when you consider that you may be speaking to a group for long periods of time (2 - 8 hours). Positive emotions improve our ability to retain information. Most of us believe we have a good sense of humor, and we should put it to good use when we present. At the very least add some comical graphics to liven things up. Instead of deleting all those jokes and funny pictures you get over the internet, save them and use them to enliven your training materials.

2. Pepper your presentation with interesting information. Our brains respond well to information that is unique and surprising. Working in some "facts that amaze and impress" is a good strategy for keeping your audience riveted. Consider this; Speakers speak at a rate of 100 - 200 words per minute. Listeners have the ability to listen to 400 - 500 words per minute. The conclusion, "There's a lot of room to get bored". And that is exactly what happens. Studies show that the retention levels go from around 70% in the first 10 - 15 minutes of the presentation, to 20% after this. Given the rate that most all of us speak, people will just naturally become distracted.

3. Pulse between presentation and participation. When presenting it is imperative that you know one thing, WHEN TO STOP! Again we always see the objective as getting the information out. We look at the mounds of information we have to dispense and quickly realize that there is little time to take a breath, let alone, take a moment for audience participation. And I guess if the objective is to get the information out rather than help your audience to absorb what you have to say, the above strategy is fine. Engaging people means allowing them an opportunity to actively participate in the learning experience. Periodically (at least every 18 minutes) stopping to introduce an exercise or any activity that allows for participation will keep your audience engaged. In fact, your program should become more and more participative as you go. In our Newsletter 17 we showed you how you can incorporate interactive PowerPoint slides, which allow your listeners to interact (having your listeners reveal a hidden list of your key training points, rather than you spoon feeding them each point). In this Newsletter (18) we also show you how to add a random selector to your presentation. In this manner you can have fun selecting a team, a player, a category, a question or a participative exercise as you present.

4. Pick up the pace. Most experts tell us that the Gen X and Gen Y people in our audience will prefer a faster-paced presentation style. I'm not sure this is not true for all people. The faster pace almost naturally demands that we attend to what is being presented. It is not that we want to feed our audience so many facts that there is not enough time to assimilate the learning. After all we can only retain 5 - 9 bits of information within our short term memories. We do however want to keep new information flowing during the presentation. You may have found yourself listening to speakers and asking yourself "Where's the Beef?"

5. Tell an interesting story. Your presentation should be delivered as if you are telling a story. In this regard, slide transitions should be seamless as you move through your story. The slide text is really there to help your audience, and not for you to read from. You can't be in the middle of an interesting story, and suddenly need to stop to read a slide. The two just do not go together.

Again, all the above is much harder said than done but taking the time to infuse some of these ideas into your next presentation will net some good results.
New TGI 6-Pack Ice Breaker-Team Builder Games
Here are six great PowerPoint games that can be used in the classroom or for online training, including:
• Fun Feud
• Match Game
• 1,000,000 Pyramid
• Star Cruiser
• Ice Breaker Wheel Game
• Team Builder Crossword Puzzle

All the games will help break the ice, get teams working together and help people get to know each other.

Single User Lifetime License $99.99
More Info or Buy Now
Products From TGI
Contact

[email protected]

or call 602-750-7223
What's New at TGI
Games For Trainers – A Must See Site for Trainers and Teachers!
Games and training go hand-in-hand and that's what this site is all about. The most popular assortment of training games are featured, along with books, links, articles and information on topics such as why team building should involve games, how to encourage ideas in meetings and how to make games more effective. Visit Games For Trainers here.

New Product Icebreaker Games

Our 6-Pack PowerPoint Quiz Shows have been so successful that we thought we would develop a 6-Pack of Team Builders and Ice Breaker Games. These include, Fun Feud, The 1,000,000 Dollar Pyramid, The Ice Breaker Wheel Game, The Ice Breaker Match Game, Star Cruiser, and Team Crossword Puzzle. For more information: http://www.training-games.com/powerpoint_games.html

New Affiliates Program

TRAINERS JOIN NOW! TGI is offering you a very lucrative opportunity to sell our games from your website. It's easy for you to earn generous commissions as a Training Games affiliate. If you direct a user from links on your website to our site and that user makes a purchase, you will receive a 43% commission on the sale. For example, a sale of $119.99 X 43% = Commission to you of $51.60. To learn more click here.
TGI Quiz Show XF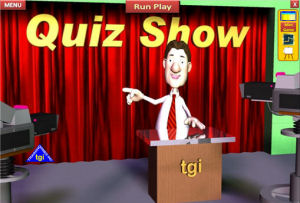 This Quiz Show Game is really 4 games in 1 with the ability to change the configurations of the 4 base games to over 40 different game variations.

It features Team play with up to 8 teams and as many as 20 players per team. Input your own training questions or download popular business, educational, and trivia Question Sets available FREE for our XF Game purchasers - literally thousands of pre-written questions.

Single User License from $99.99
Read more and buy now
PowerPoint Random Generator - Series 2
Here is a helpful PowerPoint technique for making your presentations more interactive. We show you how to build a "PPT Random Selector" within your PowerPoint presentation. "What is a PPT Random Selector?" you may be asking. It is a way to randomly choose an item from a group of items from within a PowerPoint presentation. For example, you might want to select one team from all the teams participating in your class exercise, or you may want to select a question category from a list of categories included within your training program. The below link will introduce you to how this can be done in PowerPoint.

Random Generator Movie
Famous Quotes
Guatama Buddha - "The tongue like a sharp knife... Kills without drawing blood."

Mark Twain - "It usually takes more than three weeks to prepare a good impromptu speech."

George Bernard Shaw - "My method is to take the utmost trouble to find the right thing to say, and then to say it with the utmost levity."
Visit our Website at www.training-games.com
Download the TGI Catalog
TGI Support Tools
Our Support Tools are a series of training modules for your training programs. These modules can work independently to meet specific training needs, or be combined to work in tandem with one another. Support Tools include:

The Scoreboard Plus Module - A scoreboard, sound generator, tournament tracker, database and more

The Big Spin Module - Several different random generators, sound generator for players, teams or points. It will generate random names, points, numbers, prizes, teams or anything you can think to enter.

The Certificate Maker Module - Create 20 different certificates with customizable forms. Prints 50 individual certificates at the touch of a button

The Quote Maker Module - Contains over 1,000 famous quotes, 20 different printable formats, export to other applications, includes a game called "Who Said This?"

The Question Presenter Module - Internal database to present multiple choice or true/false questions including the ability to attach a graphic and/or sounds to any question

The Answer Is Module - Use to present questions/answers or exercises/follow-up, sound generator, timer and more

Starting at just $19.99, buy one or buy them all here!
Training Games Inc.
Gary Trotta, CEO
4545 E Hedgehog Pl
Cave Creek, AZ 85331
602-750-7223


[email protected]


www.Training-Games.com
PS..
The sole intention of this email is to introduce you to our company and our products. If you do not want to receive ANY future emails from TGI, please CLICK HERE to REMOVE your email address. We respect your privacy and believe in keeping the Web a wonderful place for all.
© Copyright 2007. Training Games Inc.