Training-Games.com
Issue 34
Learning CAN be fun. Training SHOULD be fun. Training Games ARE fun!
If you are having problems viewing this newsletter, you may also view it online here.

Happy Holidays!

We at Training Games Inc. want to wish you all
happiness and good health for the holidays.
In this Newsletter...
Brain Based Learning and Conventional
Teaching Styles and Games
Brain based learning is defined as a comprehensive approach to education with its foundations based in how our brain naturally learns. We have modern neuroscience through its MRIs (Magnetic Resonance Imaging), EEGs (Electroencephalography), PET Scans (Positron emission tomography), and CT or CAT scans (Computed tomography) to thank for much of this new found knowledge. Advocates of Brain based learning insist there is a distinct difference between using a teaching methodology in sync with and not in opposition to how we actually learn. In his book, Human Brain & Human Learning (1983), Leslie Hart argues that "teaching without an awareness of how the brain learns is like designing a glove with no sense of what a hand looks like–its shape, how it moves." Other noted authors in the field include Howard Gardner, Harvard University; Eric Jensen; Renate and Geoffrey Caine; Marian Diamond, U. C., Berkeley; Thomas Armstrong; and Candace Pert.

Andrea Spears and Leslie Wilson in their article on "Brain-Based Learning Highlights" http://www.uwsp.edu/education/celtProject/innovations/Brain-Based%20Learning/brain-based_learning.htm bring to our attention three interactive teaching elements defined by Caine and Caine in their book, "Making Connections: Teaching and the Human Brain (1991)". These principles include Orchestrated Immersion. A fantastically expressive phrase, referencing the instructor's ability to thoroughly engage students in a learning experience. Spears and Wilson provide these examples; "The primary teacher builds a rainforest in the classroom complete with stuffed animals and cardboard and paper trees that reach to the ceiling. The intermediate teachers take students to a school forest to explore and identify animal tracks in the snow and complete orienteering experiences with a compass. The junior high teachers take a field trip to an insurance company to have students shadow an employee all day. The high school teachers of astronomy have students experience weightlessness by scuba diving in the swimming pool."

The second principle given to us by Caine and Caine is called Relaxed Alertness. This has to do with creating a challenging, yet unthreatening learning environment. And finally a third principle attributed to Geoffrey Caine and Eric Jensen, Active Processing. In essence it is not enough that the student simply experiences or is immersed in the knowledge, but that they are also provided with opportunity (through the instructor) to have multiple opportunities to receive feedback, question, compare, and relate the information to what they have already learned.

Active Processing involves:

• Detailed sensory observation;

• Deliberate practice and rehearsal;

• Making links to previous learning;

• Multiple modes of questioning;

• Incorporation of expert knowledge;

• Analysis of data and sources;

• Ongoing reflection on feedback; and

• Expansion of capacities for self-discipline and self-regulation.

(From The Caine and Caine Learning Center, The Three Elements Expanded)

Let's now perhaps take a gander at the 500 pound gorilla in the room. Great stuff you say, fantastic in theory, and maybe "easier said than done". Teachers and trainers have always been charged with a curriculum to cover, complete, and get through. The stuffy college professor, comforted by his lectern, succinctly bellows "I have served to you the information on a gilded platter, now, my dear students; it is only left up to you, to eat." There is a certain wisdom in the way things have been done in the past. And a rationale for why we have for years taught using a very instructor-centered approach. The reason is, in a word, efficiency. If the charge is to dispense information quickly, and so that all have an equal opportunity to grasp it, than let the lectures begin.

Perhaps there is a middle ground. Some combination between learning which occurs in a relaxed yet challenging environment, immerses students within a valuable learning experience, yet ensures that the information is delivered in an efficient and comprehensive manner.

Training and teaching games are certainly not a panacea in this regard, but in combination, and if done correctly, games can provide both efficient learning as well as a rich learning experience. Typically games have been used in classroom situations for reviewing program material. This is certainly helpful because each time learning is presented synaptic connections become stronger, and information more fully engrained. Games naturally provide a relaxed and socially stimulated environment well suited for learning. Indeed one of the brain based learning core principles states "The brain is social. It develops better in concert with other brains." But perhaps games can be even better learning tools if we allow the students to not only play the game, but actually create it.

Take for example any of the computer quiz show game formats developed by TGI. We always suggest a way that the game can be played. We also add to this however that teachers and trainers may prefer to develop or have their students develop the rules for the game. This might include how questions will be delivered (Random team selection, sequential rotation or via quick response), how scoring will be done (question values, double and triple score options), and how players or teams will need to provide question answers (with time limits, pass options, and answering as individual players or as a team). Imagine you've just delivered a program training module. Hopefully it was delivered to an engaged and interactive audience. You've introduced a fun quiz show game, but challenged your group to develop the game rules. Then you take it one step further, and ask perspective teams to review the available resource materials, and develop questions for the opposing team/s to answer. Imagine the excitement you're building. Finally for all incorrect answers given during game play, the team that developed a particular question, is asked to expound on the question after the game has ended. In other words, to teach!

Here we're playing a game, but also creating an experience for students to develop, problem solve, explore and teach program information with a structured classroom setting. In addition we are allowing the game to provide a comprehensive and efficient means for reviewing the program's content. It is again not the only way to combine principles of brain based learning with efficient teaching methodology, but certainly plausible and a valuable attempt.
Famous Quotes
Antoine de Saint-Exupéry — "But games always cover something deep and intense; else there would be no excitement in them, no pleasure, no power to stir us."

James R. Newman — "Games are among the most interesting creations of the human mind, and the analysis of their structure is full of adventure and surprises. Unfortunately there is never a lack of mathematicians for the job of transforming delectable ingredients into a dish that tastes like a damp blanket."

H.T. Leslie — "The game of life is not so much in holding a good hand as playing a poor hand well."
Products From TGI
Contact

[email protected]

or call 602-750-7223
TGI Presents Mac 6-Packs
3 New 6-Packs designed to work on a Mac but will also work on a PC !
Some of our most popular PowerPoint based games now for Macintosh:

TGI PowerPoint Mac 6-Pack Quiz Show Games
TGI PowerPoint Mac 6-Pack Ice Breakers
TGI PowerPoint Mac 6-Pack Team Builders
Single User Lifetime License $99.99
Free TGI Icebreaker Game
(Who's on First! – Abbott and Costello)
We thought it might be fun to offer an icebreaker that is just fun to play. This one contains the hilarious "Who's on First" comedy routine by Abbott and Costello, and afterwards asks your players to fill in the names of the ball players mentioned on the field. Right-click and save the file to your computer. The download link is only active in newsletters sent out to TGI subscribers.
A Short Brain Based Learning Story
Here is a great example of creative teaching, and exemplifies the power of brain based learning. It is an excerpt from an article by Lisa Chipongian entitled "What is "Brain-Based Learning"?

"A second grade teacher's successful efforts to teach punctuation, specifically commas, periods, and exclamation points, serves as a good example of how a teacher may use what students already know to teach what is abstract and unfamiliar. After giving her students verbal explanations of what each of these punctuation marks means (the comma, "slow down"; the period, "stop"; and the exclamation mark, "emphasis"), the teacher had her students read out loud. But the verbal explanations she had given them did not affect the way they read.

Finally, exasperated, she had them put on their coats and follow her outside. She told them, "I am going to read to you and I want you to walk around in a circle. When I say 'comma' I want you to slooow down, whenever I say 'period' I want you to stop dead in your tracks, and when I say 'exclamation mark' I want you to jump up and down…." She tried this for five minutes with perfect success. When they went back inside and read, all of them slowed down at the commas, paused at periods, and used emphasis at exclamation points.

Lisa Chipongian is a writer and editor who lives in Madison, Wisconsin, and works as an Associate Research Specialist in the Psychology Department of the University of Wisconsin-Madison.
TGI Presentation Game 4.0
Step 1. Bring your entire PowerPoint presentation into the Presentation Game, it's a snap, and it's so easy!
Step 2. Now add in our fun and fully animated TGI Interactive Game Slides to engage your audience, enhance your presentation and energize your program.
Step 3. With just a push of one button our automated scoreboard and many great game features are instantly added to ALL of the slides in your presentation.

THAT'S IT - YOU ARE READY TO DELIVER AND PLAY THE EXCITING PRESENTATION GAME!

It takes less than a minute to transform any PowerPoint presentation into an Interactive PRESENTATION GAME. Features include a Game Scoreboard, Random Selectors, Random Number Selectors, and plenty of ready-to-go interactive game slides to engage your audience.

Need more information on the Presentation Game? Click here to open the PDF Help file which is included with the Presentation Game. Click here to open a brief PowerPoint presentation to guide you through the steps for creating and playing the Presentation Game.

Single User Lifetime License only $99.99 - Buy Now
Visit our Website at www.training-games.com
Download the TGI Catalog
Brain Facts
1. In a famous experiment in the 1950's, scientists planted electrodes in the brains of rats, enabling them to self-administer pleasurable sensations by pressing a bar. If allowed, the rats would stimulate an area called the nucleus accumbens to the exclusion of all other activities, passing up opportunities to eat, drink or even mate. They did it until they fell over.

Stupid rats, right? But we humans also have a nucleus accumbens, and it can take over our lives, too. If we let it, it can lead us into financial ruin. That's what happened recently to Jerome Kerviel, the junior trader at the French bank Société Général. In December, his risky bets turned a $2 billion profit. "That produced a desire to continue," Kerviel told prosecutors. "There was a snowball effect." By the time his risky investments came undone in January, Kerviel had lost the bank $7.2 billion.

Think of the nucleus accumbens as appetite central. I'ts part of the primitive brain and it has evolved to light up and get us moving forward at the sight of almost any kind of reward. It doesn't matter whether it's a piece of chocolate cake, a BMW M5 sports car, Scarlet Johansson in a party dress or a stock that gets the kind of hype Enron used to enjoy. All of them produce a surge of the neurotransmitter dopamine, and that makes the nucleus accumbens do the shimmy. [Excerpt from "Going broke? Blame your primitive brain" by Richard Conniff, MSN Money]

2. When people feel depressed they tend to overshop and overpay by as much as 300%. [From a study done by Behavioral Economist, Jennifer Lerner of Harvard]
TGI Quiz Show XF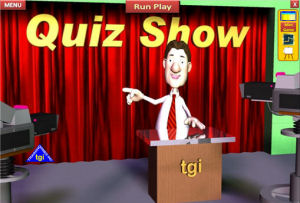 Quiz Show Game XF, a TGI Top Seller, contains 4 games in 1 with the ability to change the configurations of the 4 base games to over 40 different game variations.

It features team play with up to 8 teams and as many as 20 players per team. Input your own training questions or download popular business, educational, and trivia Question Sets available FREE for our XF Game purchasers - literally thousands of pre-written questions.

Single User License from $99.99
Read more and buy now
Become a TGI Affiliate
Some simple referral links on your website could earn you a generous 43% commission by promoting our PowerPoint and Excel training games. TGI's affiliate program gives you the opportunity to sell Training Games products on your blog or site. Simply copy and paste product links into your website. Click here for detailed information or to enroll as an affiliate today.
TGI PowerPoint Content
Would you like some help creating a professional, dynamic, top-quality presentation? TGI offers reasonably-priced Microsoft PowerPoint presentations on popular business topics from Assertiveness Training to Time Management. All of our resources are ready for immediate download and can be in your hands in minutes.

Here are some of our available titles available at:
http://training-games.com/readysetpresent.html
Assertiveness PowerPoint Content
Challenging Employees PowerPoint Content
Change PowerPoint Content
Coaching Skills PowerPoint Content
Communication PowerPoint Content
Conflict PowerPoint Content
Customer Service PowerPoint Content
Decision Making PowerPoint Content
Delegation PowerPoint Content
Diversity PowerPoint Content
Empowerment PowerPoint Content
Gender Differences PowerPoint Content
Goal Setting PowerPoint Content
Interviewing PowerPoint Content
Leadership PowerPoint Content
Meetings PowerPoint Content
Mentoring PowerPoint Content
Motivation PowerPoint Content
Negotiation PowerPoint Content
Performance Evaluation PowerPoint Content
TGI Buzzer Systems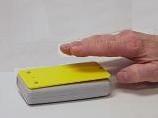 Add a "Buzzer" or "Quick Response" system and make your training game even more exciting. TGI now provides 4 games (Quiz Show XF, Classroom Quiz Show XF, The DEAL? Game, and The PowerPoint Presentation Game 4.0), that integrate with a USB Wireless Buzzer System. We've now sell one of the premiere buzzer, or slammer systems on the our website (http://training-games.com/side_slammer.html) and are available for two, five and eight teams to play. Here are some of the features offered with these wireless slammers:

• Patented RF-Wireless design
• Keypads use radio frequency with no line-of-sight limitations
• Keypads have a range of up to 100 feet
• Keypads have low battery and transmit indication
• Sleep mode to preserve battery life
• FCC approved units, no Site approval needed
• Plastic carrying briefcase included

Make your training more fun with buzzers today!
Error Correction – Christmas Trivia Questions
Several people wrote to inform us of an error correction on a Christmas Trivia question found in Issue 33. Indeed it was the Griswold's cat that was electrocuted, and the Movie playing in the town of Bedford was "The Bells of St. Mary's" 1945.
Training Games Inc.
Gary Trotta, CEO
4545 E Hedgehog Pl
Cave Creek, AZ 85331
602-750-7223


[email protected]


www.Training-Games.com
PS..
The sole intention of this email is to introduce you to our company and our products. If you do not want to receive ANY future emails from TGI, please CLICK HERE to REMOVE your email address. We respect your privacy and believe in keeping the Web a wonderful place for all.

Over time some of the links within our newsletters may become disabled. If you have interest in a particular URL or download please contact us at

[email protected]
© Copyright 2008. Training Games Inc.