FREE Presentation Companion Add-In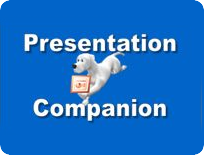 Slide Packs include:
This is a FREE download with no restrictions, ads or sign-up requests. This handy application gives you the ability to instantly import slides into a PowerPoint Presentation you are developing. You can use the slides from the fun and interactive trainer Slide Packs we offer below or from ANY PowerPoint slides you've developed on your computer. It's also packed with training games and interactive sample slides for you to use for FREE. Our Slide Packs are designed for trainers, teachers and presenters and make your presentations engaging, participative and FUN! You'll be amazed at what they can do for YOU and how they'll delight your audience! You're one click away from instantly installing this great add-in on any version of Windows PowerPoint 2007, 2010 or 2013. Our hope is that you'll also want to purchase our Presentation Game application and many of our interactive Slide Packs featured below.
Content
Games

Icebreakers & Energizers

Impact Slides

Training Aids

For information on our Affiliate Program, contact [email protected]

© Copyright . Training Games, Inc. All Rights Reserved.