Now with USB interface and random selector!

This stand-alone gameshow buzzer system will add excitement and real time action to your training game. Who's First™ works with all Training Game products and allows 6 teams or 6 individuals to buzz in to answer questions from a distance up to 50 feet. The colorful tower light flashes to indicate the first respondent, while the light corresponding to the second place team or individual will simply be solid.
Buzzer System Includes: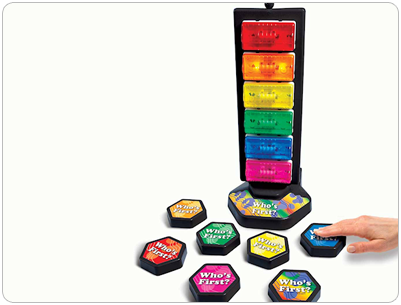 1 main tower with 6 colored lights
6 wireless color touch pads (3.5 inches in diameter by 1 inch high, batteries included)
1 wireless reset touch pad
Handy backpack carrying case
AC adapter
Watch the Who's First™ Wireless Buzzer Demo Video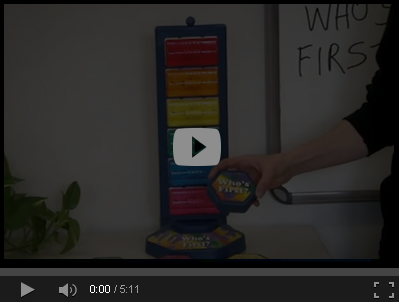 Who's First Wireless Buzzer System Pricing
6 Touch Pad Buzzer System
$ 324.95
We accept all major credit cards
Pay with  
Refund/Cancellation Policy:  All orders of the Who's First Wireless Buzzer System  are final and non-refundable.