Begin Your Training Program with a BANG! The new Toss N Talk game from Training Games Inc. is the absolute best way to energize your audience and get them ready to learn. This unique icebreaker/energizer combines physical activity with engaging mental challenges to really set the mood, absorb and engross your class participants into your program.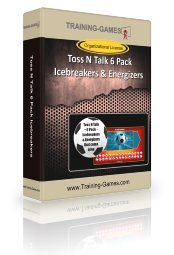 Here's how easy it is to play: Throw the Toss N Talk inflatable 24 " ball to the first player who'll catch it, then select an intriguing on-screen intro question to speak to. They'll tell the group a bit about themselves before tossing the ball across the room to the next player! The fun and action keeps going, as the players keep throwing the ball and speaking around the room. Each player must select their question from one of thirty soccer ball images found on the main game screen of this PowerPoint application. No one will knows the question they'll get before clicking on the ball, but each question is designed to be fun and will help participants share their thoughts, experiences and opinions with the group. There are several ways to play the game, even a kind of "musical chairs" twist. Click on the main game screen to start the music, which will stop playing in random spots. The player holding the ball when the music stops gets the next question. A lot fun and a lot of laughs in this great game! Works with any PC and requires PowerPoint Version 2010 or later. This product is mailed to you with the inflatable soccer ball for delivery in 5-7 business days. A complimentary down load after purchase is available upon request ([email protected]).
Included in this 6 pack: There are 6 different icebreakers/energizers games, each
with an interesting and engaging approach. Each game includes 30 intriguing questions. The games include:
Toss N Talk – All About Me - Questions about myself
Toss N Talk – Back in the Day – Questions about my experiences
Toss N Talk – Best and the Worst – Opinion questions
Toss N Talk – Temporary Teams – Questions for two player teams
Toss N Talk – What Would You Do? – Intriguing and thoughtful questions
Toss N Talk – Shake It Up – Here there's no question at all, but a fun call to ACTION!
The game also includes an inflatable 24" inch Beach Ball, ready for tossing! Create a Multitude of games from this 6 pack: Since these are written in PowerPoint you can customize the slides to suit your audience and add your own graphics and logo to make it your own. Use this program to introduce your class or just to lighten things up in the middle of your program. Use this program when you need to energize your class participants. From Dr. John Medina's book entitled "Brain Rules" "Most of us have no idea what's really going on inside our heads. Yet brain scientists have uncovered details every business leader, parent, and teacher should know—like the need for physical activity to get your brain working its best."

Open Toss N Talk Instructions PDF
This product requires Windows PowerPoint 2010 or newer.
Single User License allows use by one trainer/educator/presenter.
Multi-User License allows use by up to 20 trainers/educators/presenters in an organization.
Enables you to develop 100s of different training games for unlimited participants.
The ultimate time saving tool for all trainers.
FREE Lifetime Access to our MEMBERS ONLY AREA containing 100s of PowerPoint Training Games and Tools.
| | | | |
| --- | --- | --- | --- |
| Products | Reg. | Sale | |
| Toss N Talk – Multi-User License (20) | $169 | $79 | |
| Toss N Talk & Toss N Teach Bundle – Multi-User License (20) | $309 | $139 | |
| Toss N Talk & Toss N Teach Bundle – Single User License | $199 | $109 | |
| Toss N Talk - Single User License | $99 | $39 | |