The TGI Toss N Teach game puts the "Active" into "Interactive", cleverly combining physical activity with classroom learning. This game offers your group a fun and engaging interactive experience guaranteed to increase learning retention.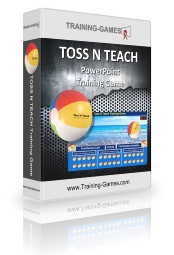 Imagine a colorful PowerPoint "Beach ball" game board projected in front of your classroom. An animated beach ball bounces back and forth across the screen. Below the ball are up to 30 small beach ball buttons linked to your training questions. You've challenged your class to answer all your training review questions correctly.
The game offers several ways of choosing players to answer each question. For example, clicking the random musical timer button starts the music playing. The ball gets tossed around the room, and when the music stops, the player holding the ball gets the question. Sort of like musical chairs but with a beach ball!
The game can be played at your pace. Use the computer to choose the players to answer your questions OR play musical beach ball where the last player to touch the ball answers the question after the music stops. There are over 8 different ways to use the Toss N Teach game to either teach new material or review learned material with your group. Games can be adjusted to the number of questions; play 10, 20 or 30 question games. Choose the question format that suits your style, open-ended, true/false or multiple choice. Game includes a real 24" inflatable Toss N Teach beach ball! Works on all PCs and requires PowerPoint version 2010 or later. This product, once purchased, will be mailed to you (24″ Beach Ball and application CD or flash drive) for delivery in 5 business days. Need it Sooner? You'll also receive the product application via download directly after purchase.
Multi License Discount Schedule: (Quantity Discount applied at check out)

Buy one @ $89.00
Buy two @ $79.00 each
Buy three @ $74.00 each
Buy four @ $69.00 each
Buy five or more @ $64.00 each
This game has so much in it that we urge you to view our video.
This product requires Windows PowerPoint 2010 or newer.
Single User License allows use by one trainer/educator/presenter.
Enables you to develop 100s of different training games for unlimited participants.
The ultimate time saving tool for all trainers.
FREE Lifetime Access to our MEMBERS ONLY AREA containing 100s of PowerPoint Training Games and Tools.
| | | | |
| --- | --- | --- | --- |
| Products | Reg. | Sale | |
| Toss N Teach Single-User License (20) | $139 | $89 | |
| Toss N Teach & Toss N Talk  Bundle – Individual License | $199 | $109 | |