Let's Play Ball!  This 4-Pack of classroom training games includes all your favorite Sports, Football, Baseball, Golf and Auto Racing.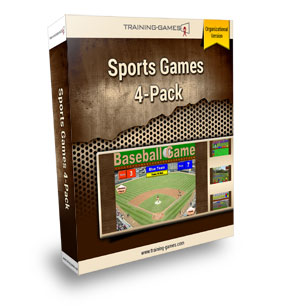 Add your training questions to any of these 4 classic sports games to energize your training/teaching programs. All games are completely editable and can be used over and over again. Once you've added your questions; just name and save the file. You'll be able to create 100s of different football, golf, baseball or car racing games for each of your different training/teaching programs.
These games are based on real life sporting events that we all love to watch or play. Cars race across the screen, players run the bases or march down the football field, and the golfers navigate 3 very different holes of golf. Each game is unique and plays differently every time - so it will never get stale.  Use as a training question review tool or add some sports trivia questions for a fun and interactive ice breaker or team builder game.
Watch our short video

This product requires Windows PowerPoint 2010 or newer.
Single User License allows use by one trainer/educator/presenter.
Multi-User License allows use by up to 20 trainers/educators/presenters in an organization.
Enables you to develop 100s of different training games for unlimited participants.
The ultimate time saving tool for all trainers.
FREE Lifetime Access to our MEMBERS ONLY AREA containing 100s of PowerPoint Training Games and Tools.
| | | | |
| --- | --- | --- | --- |
| Products | Reg. | Sale | |
| Sports Pack – Multi-User License (20) | $199 | $99 | |
| Sports Pack & Ultimate Quiz Show Bundle – Multi-User License (20) | $599 | $279 | |
| Sports Pack & Ultimate Quiz Show Bundle – Single User License | $299 | $139 | |
| Sports Pack – Single User License | $99 | $49 | |