FREE - One hour online Train the Trainer (game features and operation review) when you purchase any TGI product.

FREE XF Question Sets from TGI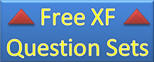 The TGI Quiz Show XF is a fun, engaging, participative and exciting game show. The XF stands for eXtra Features and it certainly has ALL the bells and whistles. Perhaps the hardest part for any user is having to write questions to place into the game. Now we'd like to offer a bit of help in this arena as well! TGI has over 30 great question sets that can be easily imported into our XF Games and they are yours as an XF game purchaser, FREE!. Question sets include popular business topics like Customer Service and Leadership, as well as educational sets, such as vocabulary words and U.S. Presidents. We even have sports and general trivia question sets so that your XF game can be used as an icebreaker, team builders, or just a great game to play when people get together

Here's how…. When you purchase an XF game (XF is designated in the game title) we will also send you a username and password to the FREE QUESTION SETS on our website. From here you'll be able to download over 30 different professionally written question sets. The question sets are all completely editable, so you can combine them with questions from your own proprietary training programs. The question sets can also be e-mailed to others within your organization. These question sets also contain an automated quiz application which work great for program pre-work or training review. In addition, TGI is quickly creating many more XF style games for you to chose from and these will be on our website SOON!. Just another great reason WHY to BUY, T G I!

Send us your questions… We would like to be able to share your question sets with other TGI customers. Please send us any question set (within the TGI Question Database.xls file) you've developed for your TGI XF game. We will review the question set for relevance to other customers, and post the question set on the Free Question Sets page. We will also send you any of our TGI Support Tools free, just to thank you for your submission.
XF Question Set Titles

Popular Business
Sports and General Trivia
Educational
Customer Service
Diversity
Sexual Harassment
Speaking and Presenting
Teambuilding
Women in the Workplace
Work Force Trends
Leadership 1
Leadership 2
Presentations
Productive Meetings
Baseball 1
Baseball 2
Baseball 3
Baseball 4
Baseball 5
Football 1
Football 2
Football 3
General Trivia 1
General Trivia 2
Christmas movies and songs
Halloween
Saint Patricks Day
Thanksgiving
Valentines Day
Science Trivia
US Presidents 1
US Presidents 2
Vocabulary Words 100 1
Vocabulary Words 100 2
FREE QUESTION SETS:

Once you have obtained the username and password, access the free files here.